Designed in Derby - East Midlands Railway team up with city firm to create new train interiors
Friday, 25 March 2022
Designed in Derby - East Midlands Railway team up with city firm to create new train interiors

New Intercity Aurora fleet interiors designed by Derby firm
Boost for local supplier in city
Partnership builds on city's proud railway heritage
East Midlands Railways (EMR) has chosen to work with a Derby supplier to create the interiors for its new Aurora fleet.
DGDESIGN, which is based at Friar Gate Studios, provides design services to companies all over the world and has worked with many of the world's leading rail manufacturers and operators on products ranging from award-winning high-speed trains to innovative automated people movers.
EMR chose the local company to make sure the Aurora fleet offered passengers a calm, comfortable and accessible environment to enjoy their journey on the Midland Main Line when they enter service in 2023.
Rachel Turner, Head of New Trains at East Midlands Railway, said DGDESIGN were the perfect partners to help EMR ensure the Aurora fleet has market-leading interiors that customers will love to relax or work in.
She said: "We are really excited to be working with DGDESIGN on this project and are eager to show our customers what exceptional ideas they have developed, in conjunction with Hitachi Rail. We are sure their combined expertise will mean our passengers will find travelling on our new Intercity fleet is as comfortable, calm and accessible as possible.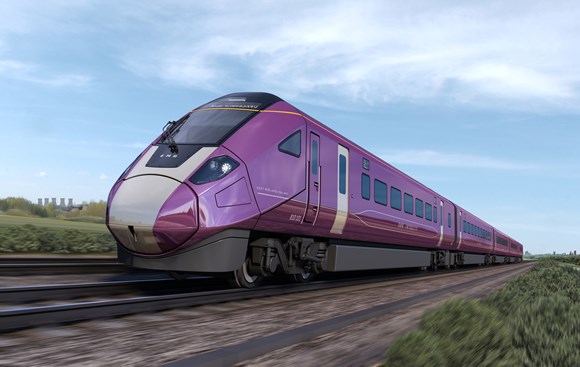 "We always try to work with local companies and support business in the regions we serve. We considered lots of companies when choosing our interior partner and it is great to work with one on our doorstep, in a city that has such a proud rail heritage."
David Gordon, Director and owner of DGDESIGN, said he was delighted that they were selected to support East Midlands Railway in designing and developing its Aurora Fleet.
He said: "Having the opportunity to work with our local rail operator is a rare privilege and brings added excitement and pride, given that we have a more tangible connection to the positive impact that the end product can bring to our community. We are very aligned with EMR's initiative to champion the regions and to work with local suppliers wherever possible, which brings direct added benefit to the region and showcases its capabilities to a wider national audience.
"I live and work in Derby so I will be using the new Aurora trains for business and leisure trips. It will be very exciting to take my family on the trains when they come into service and show them the train interiors that I helped design.
Aurora | Meet Our Industrial Designers: DG Design | EMR
EMR's new Intercity fleet will be built by Hitachi Rail in County Durham and financed by Rock Rail East Midlands. Aurora will offer significant advances on the existing fleet, with passengers benefiting from more seats and modern interiors. The trains will also include features that passengers have said they want to see, including air conditioning, free WiFi throughout, plug sockets and better passenger information screens.
Contact Information
Andrew Commons
[email protected]
East Midlands Railway
East Midlands Railway provides intercity and regional train services across England
EMR Intercity operates to and from London St Pancras International, providing reliable and frequent services to Leicester, Nottingham, Lincoln, Derby and Sheffield and other towns and communities across the East Midlands.
EMR Regional provides local train services to towns and communities across England, including; Liverpool, Manchester, Crewe, Stoke-on-Trent, Peterborough, Ely, Grantham and Norwich
Over the next eight years, East Midlands Railway will deliver over £600 million of improvements for passengers across the network, including brand new bi-mode intercity trains between the East Midlands, the North and London as well as the introduction of faster, modern, refurbished trains across the rest of the network.
This investment will also see transformed stations, improved ticketing, better accessibility, new and improved timetables and more support for local communities
About Hitachi Rail
Hitachi Rail is a fully integrated, global provider of rail solutions across rolling stock, signalling, service & maintenance, digital technology and turnkey solutions. With a presence in 38 countries across six continents and over 12,000 employees, our mission is to contribute to society through the continuous development of superior rail transport solutions. We are proud of our global achievements, from our world ­famous 'bullet trains', to our signalling solutions and turnkey projects, state­-of-the-art traffic management and digital solutions. Drawing on the wider Hitachi Group's market-leading technology and research-and-development capabilities, we strive for industry leading innovations and solutions that can deliver value for customers and sustainable railway systems that benefit wider society. For information about Hitachi Rail, visit www.hitachirail.com.
About Rock Rail
Rock Rail is an independent developer, investor and asset manager of rolling stock and other rail infrastructure. Established in 2014, Rock Rail has transformed the market for rolling stock funding, leading the way in partnering with major institutional investors and in the development of innovative financing solutions for core rail infrastructure.
Rock Rail invests directly and on behalf of institutional investors. As an asset manager it provides a complete range of specialist rail services, managing residual value and ensuring its fleets meet passengers' and rail partners' needs over the long-term.
Since 2016 Rock Rail has secured £3 billion of new passenger fleets for operation on 5 UK rail franchises, (Great Northern routes, East Anglia, South Western, East Midlands and West Coast Partnership). Rock Rail was also part of a consortium of equity investors to take a 45% stake in the Intercity Express Programme West, one of the UK's most significant rail programmes of recent years.
As well as continuing to work on other core fleet opportunities in the UK, Rock Rail has extended its focus to other rail infrastructure sectors including digital signalling, depots and electrification and other rolling stock geographies including Australia, France, Germany and other mainland European markets.
Rock Rail East Midlands was established to finance, own and lease the new Hitachi trains to East Midlands Railway.
For more information, please visit: www.rockrail.com